Ready Report February 15th
Good morning! I hope you had a great Valentine's Day with your loved ones. We are nearly halfway through the 2019 General Assembly Session, and after some snow and ice, the weather hopefully seems to be clearing up - at least for a few days. Yet, despite recent inclement weather, the dropping of legislation surely hasn't stopped, and neither has our team. This past week, our office said goodbye to Andy Baranauskas who served as my legislative aide for the past two years plus.  I'm wishing him best of luck in his new position serving in a key role in the Governor's Office of Crime Control and Prevention (GOCCP) where he'll work to advance public safety in Maryland.
An Update on Laura and Reid's Law
This past year, Laura Wallen, a teacher at Wilde Lake High School in Columbia, and her unborn son Reid, were brutally murdered by Tyler Tessier. However, under current Maryland homicidal law, the defendant could not be charged for the murder of Reid. This year, we look forward to continuing the fight to expand Maryland law to make it a crime to kill a fetus before 24 weeks of pregnancy having filed SB 561 to protect all pregnant women and the children they are carrying. If someone knowingly murders an expectant mother and that results in the death of the child at any age, they should be charged for two murders. As your Senator, I will continue to fight to change the law for the Wallen family and all of those who are victims to this denial of justice. We are also working on legislation to enhance penalties for assaults on pregnant women which has become a major problem.
State Sanctioned Heroin Injection Sites??? - (Bad Bill Alert)
This past week, the Senate Finance Committee heard SB 135, a bill that would allow community organizations, including those who receive taxpayer dollars to provide a safe-space for the consumption of pre-obtained illicit drugs like heroin. If passed, this bill would essentially set up legalized heroin dens. I oppose this bill, which would protect the usage of illicit drugs. I'm all for getting those suffering from drug addiction into treatment but NOT at the expense of condoning or facilitating drug use.
Senator Ready Video on "Gun Safety" Legislation and the Second Amendment
Discussing so-called "gun safety" in my weekly video update from Monday night. Click the photo to watch the video.
CVS Minute Clinics
In honor of American Heart Month, CVS will be hosting free heart health screenings on February 21st and 28th at the Minute Clinic in the CVS pharmacy at 6040 Sykesville Rd in Eldersburg.
Individuals receiving screenings will give you an insight into the five key personal health numbers that can help determine risk for heart disease: total cholesterol, HDL (good) cholesterol, blood pressure, blood sugar and body mass index. By participating in a heart health screening, you could make a significant difference in raising awareness about heart disease and make an impact on the health and future of someone's life. 
Do you Know a College Student?

The 2019-2020 Senatorial Scholarship Application is now open. Please contact Emily Van Horn at 410-596-0037 or email at [email protected] for more information.
Tweet of the Week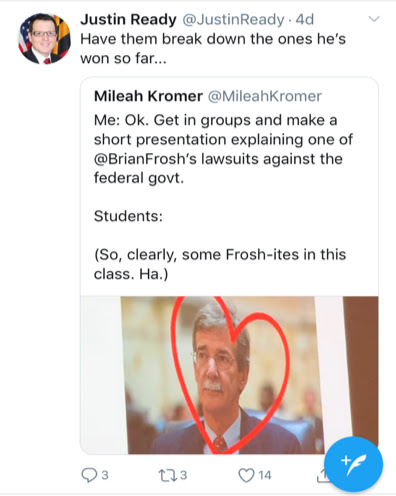 Connecting With Us:

To stay up to date with the latest goings on in Annapolis and our area, I hope you'll like my Facebook page – www.Facebook.com/SenatorReady  and follow me on Twitter http://Twitter.com/JustinReady - and Instagram-http://Instagram.com/JustinReady. It's a great way to stay informed and also to get in touch with me when you have concerns.
I consider it a great honor and responsibility to serve you in Annapolis and welcome your thoughts and opinions.  Please feel free to contact me or my staff with any questions, or concerns that you have.



Sincerely,


Justin Ready
www.JustinReady.com