This week in the State Senate had a little bit of everything from an inspiring March for Life to odd/silly bills about "bird-safe buildings" - see video below - and banning some kinds of polystyrene. The House of Delegates, in a 96-44 vote, approved HB166, which would gradually increase the state's minimum wage from $10.10 per hour to $15 by 2025. I am very concerned that this will result in job loss, increased consumer prices, and the restriction of small business growth. The fight to protect the wallets of hardworking Marylanders continues.
March For Life In Annapolis
On Monday night, I was proud to have stood with hundreds of pro-life activists in the 40th Annual March for Life in Annapolis. It is always wonderful to see so many people stand for life - from the womb to natural death. One of my favorite moments from the event was seeing  a sign held by an attendee with the words "A person is a person, no matter how small" from the Dr. Seuss book (and movie) Horton Hears a Who. I would like to thank all of the students, young people, and veterans for braving the cold weather to participate. With assisted suicide legislation and a number of pro-life bills being proposed, making our voices heard is extremely important.
(Silly Bill Alert!) - State Senate Passes "Ban" on some Styrofoam
On Tuesday, in a 34-13 vote, the State Senate voted on SB0285 - a cross-file of HB0109 - legislation that would ban the sale of containers made of Styrofoam and the sale of food in foam cups, plates, or egg cartons. This legislation does very little for the environment - as these kinds of products make up only a tiny percentage of overall landfill weight and a small percentage of litter, and is an undue burden on small businesses and egg producers in Maryland.  Limiting the size of government and unneeded regulations on job creators and our charities and non-profits should be two of our major priorities. This "ban" on Styrofoam does just the opposite. The bill now goes over to the Maryland House of Delegates for further consideration.
State Grant Funding Approved for Important Local Projects:
On Wednesday, the Maryland Board of Public Works (made up of Governor Hogan, Comptroller Franchot, and State Treasurer Nancy Kopp) approved two grants for Carroll County organizations - a $150,000 grant to the Board of Directors of The Boys and Girls Club of Westminster, Inc. and a $524,000 grant to the Board of Directors of Carroll Hospital Center. The Boys and Girls Club will use this grant to improve their newly refurbished facility on Main Street, and the Carroll Hospital Center will be expanding and reconfiguring the obstetrical rooms on the main hospital campus to provide better Family-Centered Neonatal Couplet Care. Both of these projects will improve the quality of life for those in Carroll County, and I appreciate the support from Governor Hogan, Comptroller Franchot and Treasurer Kopp.
THANK YOU American Conservative Union!
I was also honored to have been recognized by the American Conservative Union Foundation for record of "Conservative Achievement" as a State Senator. I would like to thank the ACU for this honor and for holding elected officials accountable for their voting records. Of course, I also thank you for giving me the opportunity to serve and fight for our conservative values. 
Senator Ready Video on Life, Foam, and Birds Legislation and the Second Amendment
Discussing this week's agenda in my weekly video update from Tuesday night. Click the photo to watch the video.
Do you Know a College Student?

The 2019-2020 Senatorial Scholarship Application is still open. Please contact Emily Van Horn at 410-596-0037 or email at [email protected] for more information.
Tweet of the Week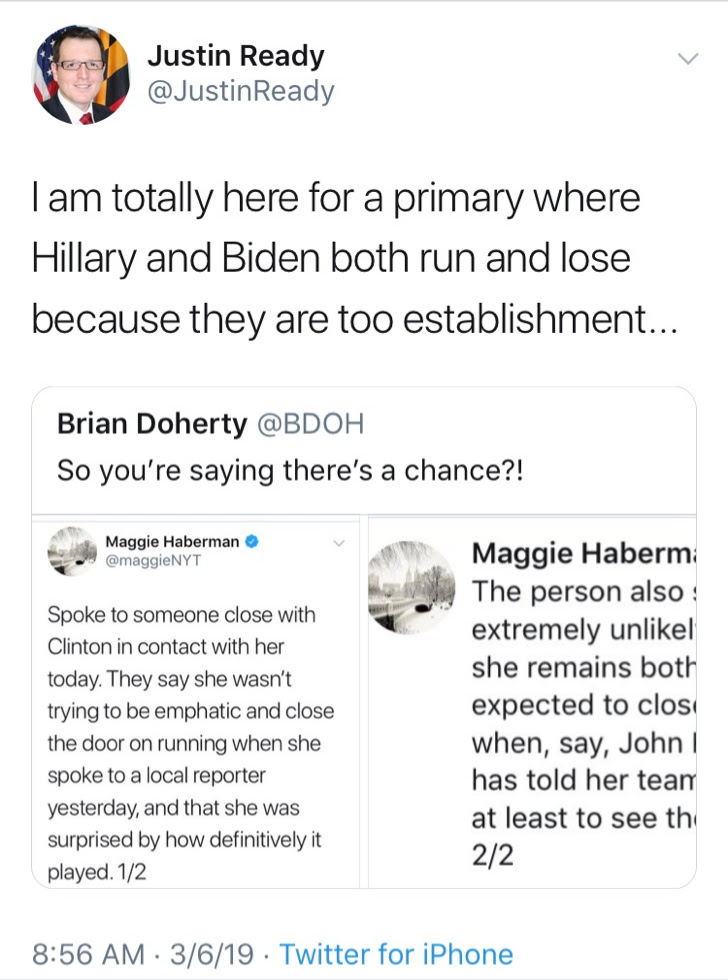 Connecting With Us:

To stay up to date with the latest news from Annapolis and our area, I hope you'll like my Facebook page – www.Facebook.com/SenatorReady  and follow me on Twitter http://Twitter.com/JustinReady - and Instagram-http://Instagram.com/JustinReady. It's a great way to stay informed and also to get in touch with me when you have concerns.
I consider it a great honor and responsibility to serve you in the State Senate and welcome your thoughts and opinions.  Please feel free to contact me or my staff with any questions or concerns that you have.



Sincerely,


Sen. Justin Ready
www.JustinReady.com


Senator Justin Ready
http://www.justinready.com/